行事 / EVENT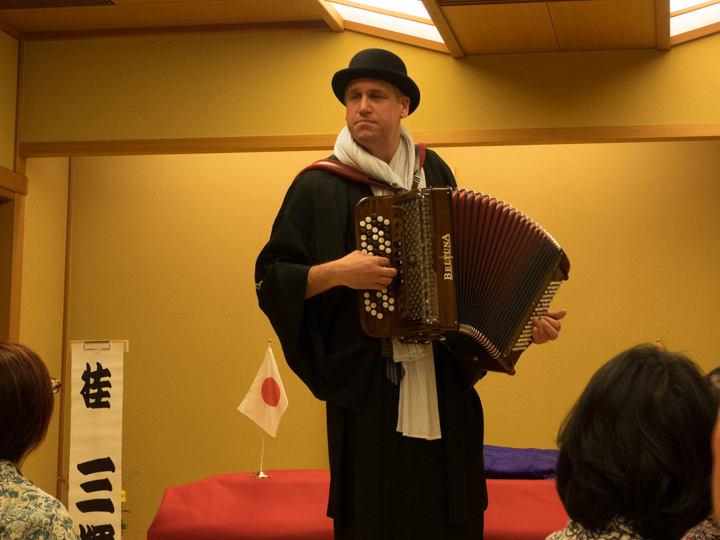 落語とお食事を楽しむ会 / Rakugo Event
爽やかな季節となりました。会員の皆様にはお変わりなくお過ごしのことと存じます。 さて、当協会では初夏のEventとして、最近話題となっているカナダ人の落語家「桂三輝(かつらサンシャイン)師」をお招きして、「落語とお食事を楽しむ会」を下記の通り開催いたします。
サンシャイン師はカナダ・トロント大学出身の英才であり、桂三枝師匠(現六代目桂文枝)に弟子入りして精進の後、めきめきと頭角を現し現在各地で活躍されています。 カナダ人の感性と日本の伝統話芸との融合による落語(日本語・英語半々)は実に面白く、特に海外生活の経験のある方にはとっては"笑い転げるほどの愉快な落語"です。カナダ人が演ずる我が国伝統文化の落語を初夏の特別メニューの松花堂弁当と共に、お楽しみ頂きたく、大勢の皆様のご来場をお待ち申し上げます。是非、ご家族、ご友人をお誘い下さい。
The event committee of the Society is pleased to announce that we are going to have a special Assembly to enjoy traditional Rakugo and seasonal menu lunch inviting Canadian Rakugo Story-Teller, Katsura Sunshine.
Katsura Sunshine (real name : Greg Robic) was born in Toronto, Ontario, Canada, now 44 years old. He studied classics theatrics at the University of Toronto, having played active roles as comic dramatist and music composer after that.
In 2008, he was accepted as an apprentice to the rakugo story-telling master, Katsura Sanshi (now Katsura Bunshi VI), and subsequently received the name of Katsura Sunshine as the result of his devotion and endeavour. Now he is showing his rakugo performances at major cities in Japan, Canada, and U.S.A.
Harmony of Canadian interpretation on Japan's Rakugo story and traditinal art of comic story-telling, makes his Rakugo (English & Japanese half by half) extremely amusing, interesting, entertaining, and delightful. It is good opportunity for all of us to enjoy Rakugo performed by a Canadian over special Shoka-do Bento Lunch Menu. Your participation in this event shall be most welcome and appreciated.
Event Details
平成26年6月21日(土)
June 21, 2014 (Sat)
12:00~14:00
会場には開演の20分前よりお入りいただけます。
Doors open 20 minutes prior to the show.
神楽坂 鳥茶屋別邸2階大広間
Tori-ja-ya Bettei 2F, Kagurazaka
\5,000
(昼食代込・但しお飲み物代のみ各自清算
including Rakugo entertainment & Lunch (drinks not included)
Photo Gallery