行事 / EVENT
カナダデーを祝う「桂三輝 落語特別公演&レセプション」
Canada Day: Rakugo & Skyview Reception
大好評をいただきました神楽坂での落語会や、今年の新年会でもおなじみの、カナダ人落語家、桂サンシャイン師がカナダデーを祝して落語特別公演&レセプションを開催します。
落語特別公演をお楽しみいただいた後には、六本木ヒルズでしか味わえないお食事をビュッフェスタイル・フリードリンクでご満喫いただきます。
「ブリュードック六本木」のクラフトビールを片手にヒルズ51階から臨む東京の絶景を眺めながら、カナダデー祝賀の夜をご一緒に楽しみませんか。ご参加ご希望の方は直接、桂サンシャイン師アドレスまで、お申込み下さい。
当日は日加協会 法眼健作会長が祝福のスピーチを致します
Join us in celebrating Canada's National Day on Friday, July 1st with a special event presented in partnership by the Canada Japan Society and the CCCJ.
Cultural Ambassador Katsura Sunshine will be presenting a special Rakugo performance, celebrating the cultural ties between Canada and Japan.
Sunshine's performance will be followed by a buffet and open bar reception at the Roppongi Hills Club, which offers some of the best views Tokyo has to offer.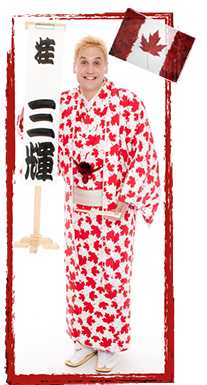 Event Details
平成28年10月07日(金)
July 1, 2016 (Sat)
Registration closed
18:30~22:00
キャッシュバーは18:30開始 / Cash Bar opens at 18:30
\10,000 (要予約 / Reservation Required)
ビュッフェスタイル・フリードリンク
Buffet style